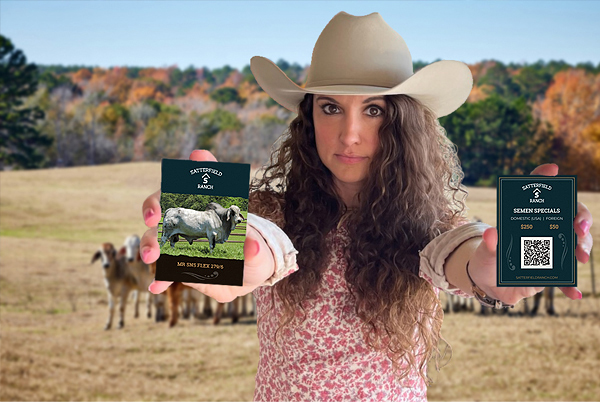 Driving Cattle into the Digital Age
In 2022, Satterfield Ranch invited Holt to the Houston Livestock Show and Rodeo which takes place each year in the spring. The HLSR is the largest livestock exhibition and rodeo in the world drawing national and international attention from around the globe.
As a first-time visitor, Holt noticed how similar it was to a corporate trade show.
"I've been to a million tradeshows in my life," said Holt, "but instead of booths, they brought actual animals. I've never seen that many cattle set on display. Row after row ready for the big show as international buyers walked by to see and examine them."
As the show began, the stadium filled with thousands of eager spectators and buyers from all over the world. The only challenge Holt could foresee was purchasing the product if a rancher was eager to buy.
"The name of the game is genetics. And if a rancher sees a sire they like, they will want to try and breed one just like it. But how do you sell that? How does a rancher purchase such a complex product in the moment while he's viewing that product? Something had to be created around todays on-demand market. If a buyer wants to purchase something, there is no reason they should have to wait. Not with what we can offer in technology."
By developing an e-commerce solution around the sale of genetics offered by Satterfield Ranch, Holt came up with the concept of Cattle Cards. An entire stable of cattle will be featured on baseball sized cards and given out at each livestock show. Users can now hold the entire stable in their pocket or hand while scanning a QR code for instant purchases going back to the new custom-built website.
"A rancher can order products as easy as purchasing from Amazon and genetics are then shipped to his ranch, be it foreign or domestic, making a transaction seamless. It's that easy."
Within just a few days of the show in Houston, Satterfield Ranch received their very first online international sale of genetics. Looking to the future, Minerbox is gearing up to drive more cattle across the world wide web.