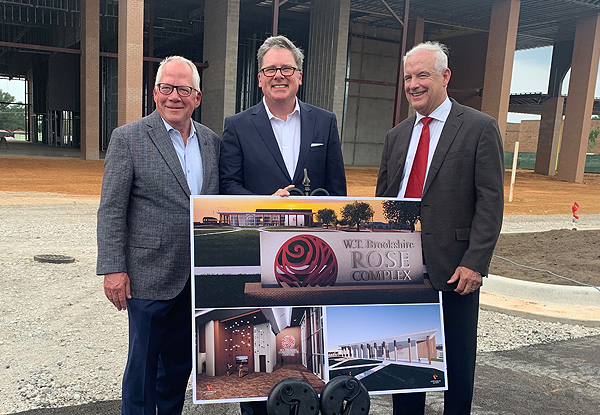 Launching a Creative Legacy with Brookshire, Warren, and Holt
In 2021, Holt was awarded the brand development for the new Rose Complex in Tyler, Texas, now under construction.
Alongside Brad Brookshire and Mayor Don Warren, Holt is proud to reveal the new Rose Complex logo along with the name W.T. Brookshire that will accompany the mark, paying tribute to the founder of Brookshire Grocery Company and the family that has remained a cornerstone to the community of Tyler, Texas.
Wood T. Brookshire opened a small grocery store on the courthouse square in downtown Tyer, Texas in a, small 2,500-square-foot store on September 1st, 1928. This very modest beginning would grow to what now employs more than 19,000 people in East Texas, helping make Brookshire Grocery Company successful each and every day.
Just as proud of the service BGC offers to all their customers, they are also known for their generosity and involvement within the East Texas community. Each year, BGC donates millions of dollars and millions of pounds of products to charitable service organizations.
The city of Tyler and the creative team surrounding the new Rose Complex is proud to showcase this outstanding man and incredible name that has helped so many people within our community.