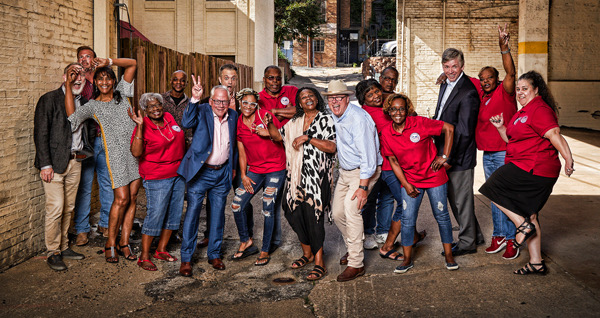 Photo from left to right: Pastor Marc Donaldson, Casey Hymer, Vanessa Lane, Rosie Johnson, Pastor Marcus Jackson, the Honorable Mayor Don Warren, Jonathan Story, Kaycee Thomas, Derrick Choice, Loretta Walker, Edwin Holt, Kathryn Sherfield, Jack Garrett (President of Juneteenth Association), Annie Allen, Dr. Doug Baker, Wanda Ealey, Melissa Green
Photo credit: Sam Smead
Holt Teams with Juneteenth Making Tyler History
Led by a small group of people who love food and music, history is being made as two churches join forces bringing blacks and whites together for the first time during the annual Juneteenth celebration.
Having spent all of his musical career entrenched within the black community, Holt along with volunteers from Marvin United Methodist Church, People's Missionary Baptist Church, and the Juneteenth committee will embark upon the very first Gospel Bridge event featuring music and home-cooked soul food.
Traditionally, this gospel event has been held at People's for many years but with the leadership of Derrick Choice teaming with Edwin Holt, this event will mark the first time in history these two cultures have broken bread while joining in song and praise in East Texas on mutual ground.
Featured artists to perform will be Nancy and Praise, The Bendy Family, The Soul Brothers of Jacksonville, Texas, The Men of People's, People's Missionary Baptist Church Choir, and the Marvin United Methodist Choir.
The event will be held on June 18th at 5:30 pm at the Folmar located at 14405 County Road 192, Tyler, Texas 75703.