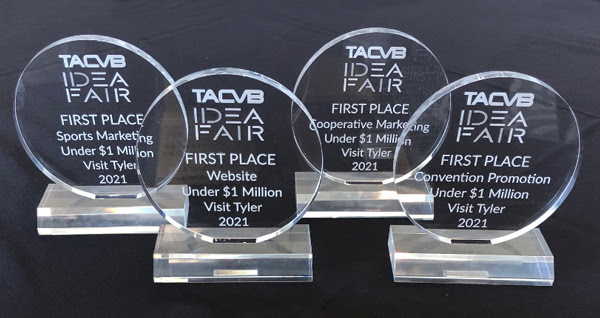 Tyler, Texas Wins First Place With Holt
This week, Visit Tyler and SPORTyler were presented with awards at the 2021 Texas Association of Convention & Visitors Bureau (TACVB) Annual Conference.
To win the awards, the staff competed against destination marketing organizations from across the entire state of Texas to position Tyler as a premiere visitor destination by implementing new marketing and promotions to bring more publicity and tourism to the community.
People's Choice Awards
– Sports Marketing, The Earl Campbell Tyler Rose Award Virtual Ceremony – First Place
With the presence of COVID still a factor nationwide, SPORTyler decided to host The Earl Campbell Tyler Rose Award ceremony virtually for the 2020 season.
– Visit Tyler Website – First Place
This year, Visit Tyler partnered with Edwin Holt and his Minerbox Interactive team to launch a newly redesigned website designed to attract visitors, promote community businesses, and provide services to residents. VisitTyler.com is the premier source for all things Tyler, showing the story Tyler has to tell, and all that it has to offer in entertainment, dining, lodging, events, and much more.
The Texas Association of Convention and Visitor Bureaus is the largest state CVB association in the United States, with more than 150 member bureaus and 400 individual members. The Visit Tyler and SPORTyler staff was at the conference in August where they attended educational sessions and destination marketing training.